St George's Bay Mi'kmaq

Cape St. George
Natives of the Cape St. George area have a newly appointed physician to meet their health care needs.

Dr. Jean Marc Benoit works from the Cape St. George clinic at Degrau. He is a general practitioner.

Meanwhile, Dr. Benoit is looking forward to immersing himself in the French lifestyle - Port au Port style. The bilingual native of the Ottawa area noted that, coincidentally, he shares a last name with many residents of the area he now serves.

Dr. Benoit is a graduate of the MUN medical school and he completed his undergraduate degree at McMaster University in Hamilton. His decision to come to the Cape to practice "made itself," he said.

"In Toronto. I happened by chance to meet Dr. Rajpura, who at the time worked at the Degras clinic. 1 wanted to stay close to the French culture and language, and I was looking for a rural setting. I came for a weekend in July and a locum in November, then I decided to come and try it out full time. It's a gentle start to my medical career."

Dr. Benoit said he is enjoying himself.

"This suits me fine," he said. "The French history and culture of this area interests me and the people are very nice. I am very lucky to be working with Stephanie Chaisson, who's been with the clinic for a few years, and has shown me the ropes here."

Prior to coming to Degrau, Dr. Benoit spent part of his residency in St. Anthony and Goose Bay.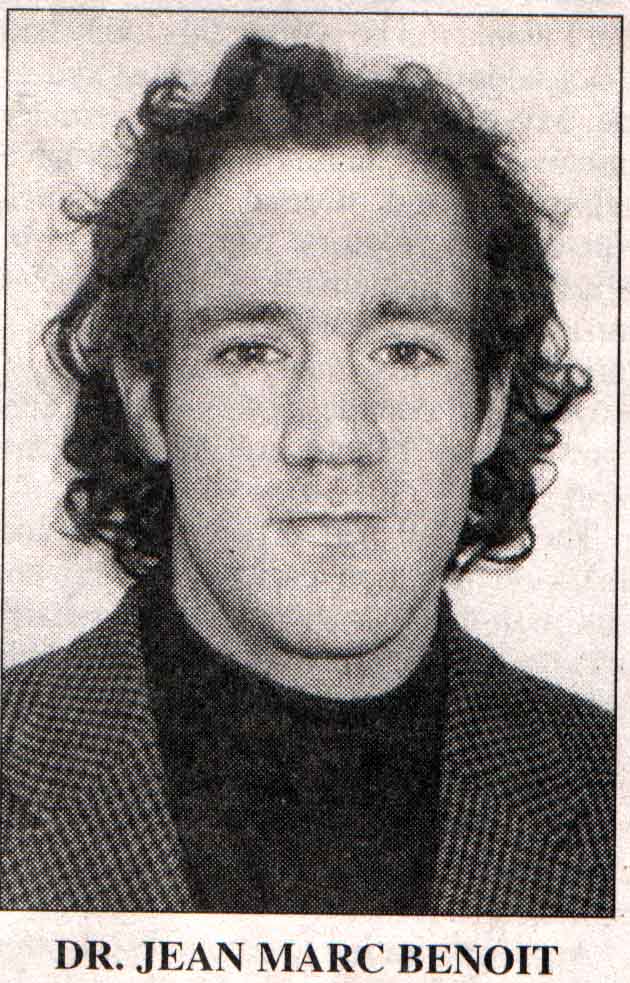 Source: The Western Star, 2002










---
Copyright © 2002-2003 Jasen Benwah
Thanks for Dropping By