St George's Bay Mi'kmaq

St. George's Indian Band celebrates National Aboriginal Day
June 21 was National Aboriginal Day and the St. George's Indian Band held a full day of ceremonies. At 5:30 a.m. a large group of people gathered on the hill at Seal Rocks to welcome the sun and to celebrate the sunrise ceremony. Chief Violet Benoit-Dawson was there to welcome all as she sang the Honor song in each of the four directions around the medicine wheel which the group had built. Everyone gathered for breakfast and then prepared for the hike up Steel Mountain.

Approximately thirty people hiked to the top of the mountain where Chief Dawson taught everyone to make tobacco ties, which were once used for good intentions towards someone who may be ill. Other meditations and songs were sung during the stay on top of the mountain, then the group headed down to prepare for the sharing session which is an opportunity for people of the band to share ideas and stories with other band members.

Following this, a traditional feast of moose, salmon, eel, potatoes, corn, bannock and much more was served. After the feast each member was asked to pick an item from the gift table. This ceremony starts with the eldest and ends with the youngest.

The group then gathered at the mouth of Barachois Brook, where band member Melvin White canoed people to the piece of land which was once inhabited by the Mi'Kmaq people. There a fire was built and story telling began. A sunset ceremony ensued with Chief Dawson singing the Honor song.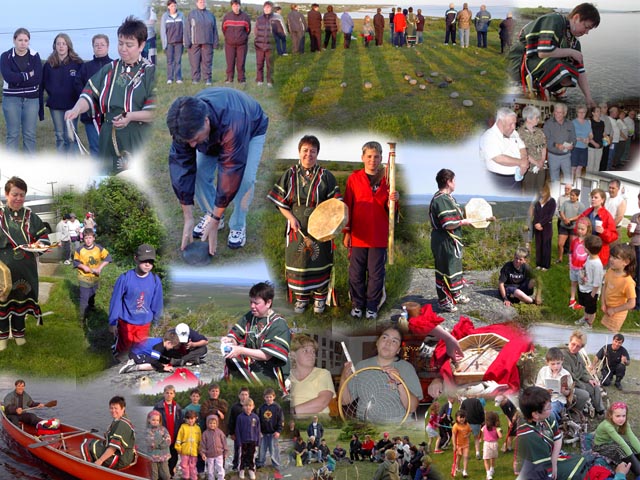 A collage of various activities from the St. George's Indian Band's celebration of National Aboriginal Day.

Source: The Georgian Newspaper July 1-7 , 2003

Micelle Ploughman photo.






Copyright © 2003 Jasen Benwah
Thanks for Dropping By